Dishonored is one of those rare games that gives you freedom to play the game the way you want to play it. If you're good at stealth then by all means sneak around, since you can still complete missions successfully without killing anyone. On the other hand, my hand, you can try to sneak around but when all else fails it helps to be good at the game's combat system. More often than not I'm leaving behind a bloody mess with alarms going off everywhere. Either way you play it, it's just as fun. The game lets you play the way you want to play it accordingly. During missions there are multiple access points to find your objective, some offering the way of stealth and some offering the way of brutality. The game is designed for you to have fun they way you want to.
The game is based in Dunwall, where a corrupt government has been set up after the murder of the High Empress, a murder you've been framed for. After you (Corvo) escape from prison you team up with the Loyalists, carrying out a series of assassinations and missions in order to clear your name and return the government to normalcy.
In order to aid you on your quest, a man named the Outsider gives you the ability to have supernatural powers. The first power you get, for free, is called Blink. It allows you to teleport over a short distance without being seen. There are more powers you can obtain, but first you must collect Runes. Runes are scattered throughout the world and allow you to upgrade and obtain new powers, including Possession and Time Warping.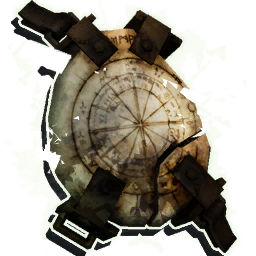 Here's a picture of a Rune
The game is extremely good, but it also requires patience. Even if you want to kill everyone, you still have to be smart about it. I've met the game over screen many times for not thinking things through completely, or for failing to see a guard. The game involves a lot of trial and error, so it is wise to save often.
The missions themselves are quite extensive, usually involving multiple objectives. On your missions you can also roam around a bit to find Runes and Bone Charms. Bone Charms are attributes you can add to your character to gain more of an advantage, but you can only have three equipped at a time.
Honestly, I went into playing this game with no predisposition. I didn't expect it to be as good as it is. The game is a much need break from all the typical games. I can say that this is the best game I've played all year, and it deserves to be played.
Rank: 9/10